Boggle the cat has been through a lot in the past month, but ​​he's almost ready to be adopted into his forever home, all thanks to the group of men who freed him from a dumpster and brought him to the Tails to Tell cat shelter in Crossfield.
Likely in search of food, Boggle crawled into a dumpster on a gas plant site near Crossfield one winter morning. Somehow, his little orange head got caught in a pop-can sized hole where the metal lifting pins slide in to lift the dumpster.
When a couple of workers on site discovered the trapped cat, they jumped into action to try and free the frazzled feline. They tried wiggling the cat's head out using dish soap and olive oil, but that didn't work, according to Colin Nilson, one of the three men who helped free the cat.
The crew agreed that despite the cat's fighting, biting, and scratching, they would continue their rescue attempt.
"When he had fight in him, we knew he was doing OK," Nilson said. "He never gave up, he fought us the whole time, we had gloves on but he was scratching and biting at us."
To better access the cat, they used a cutting torch to cut a metal plate from around him and covered the cat's head with rags to try and protect him. They quickly realized the flame was singeing his fur, so instead, they grabbed a metal grinder to cut away the metal plate.
With better access to the cat's face, Nilson said they were able to use a piece of sheet metal to squeeze the cat's head back through the hole, like a funnel.
The men then decided to bring the freed cat to Tails To Tell, Crossfield's local cat rescue shelter and adoption agency.
"During the ordeal, he was fighting pretty hard and we thought, 'There's no way this cat is ever going to be good for somebody's house,'" Nilson said.
Volunteer staff at Tails to Tell quickly realized the cat likely had had very limited contact with people prior to the rescue mission.
Nilson told the centre's staff that if the cat was too much, he could take him back and let him live out his days as a stray cat at the worksite. Luckily, the shelter found a foster family for the cat where he could heal from his injuries.
Nilson said he received a call some time later and was told that Boggle, as the cat had been named, turned out to be quite snuggly, and loved being around both other cats and people.
"I was surprised by that," Nilson said. "He was stressed out but he seemed pretty wild and feisty. There's no way I would have thought the cat would ever want to see another person again. We were trying to be as gentle as we could, but you can't get stuck like that and come out without a scratch."
Boggle has been in foster care for about a month now, and has warmed up to his temporary family pretty quickly, according to Airdrie resident Emili Tweten, who is fostering him.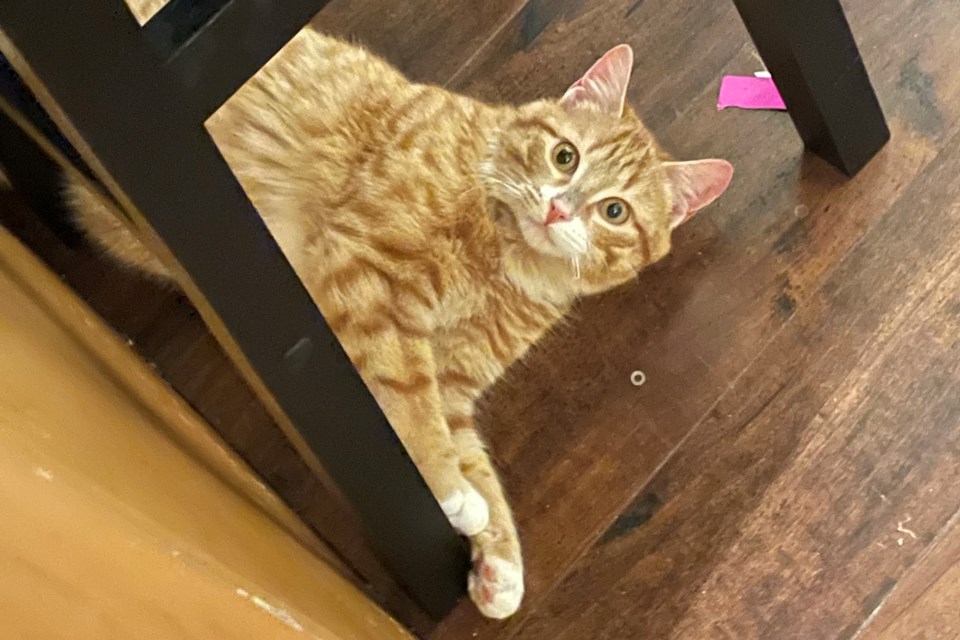 She noted that Boggle was clearly traumatized at first, with minor burns on his neck and nose and he was suffering from ear mites.
"The way he looked, you could just tell he was in pain, he was all hunched up and stuff like that," Tweten said.
Boggle has his own little area in the house, and Tweten goes about her day talking to him and letting him get used to his surroundings. When entering his space to give him his medication, she moves slowly and lets Boggle sniff her.
He was skittish and still gets scared when he's approached too quickly, according to Tweten, but she said the cat is slowly learning to trust people more.
"He's a great cat. He's super sweet, he loves to cuddle, he's super playful, and his burns have healed really nicely," Tweten said. "He likes to sleep in bed with you and cuddle on the couch. He's really sweet, he's a good cat."
While this is Tweten's first time fostering a cat, she already adopted two from Tails to Tell shelter previously, and hopes Boggle finds his "fur-ever" family too.
"I just have a feeling there is a family out there that really needs him," she said.
Colleen Holden, a volunteer with Tails to Tell, noted that Boggle will soon be neutered, after which he will be put up for adoption.
"He went to foster because he was injured and he needed a quiet place to heal rather than at the shelter," she explained.
According to Holden, the shelter sees around three or four tragic cases like Boggle's per year.
In the past year, she said the shelter took in 263 cats, of which 100 were surrendered, 153 were strays, and 10 were returned previously-adopted cats.
The shelter is 100 per cent run on donations and Holden said it is completely operated by volunteers.
For more information on the shelter or how to get involved, go to tailstotell.ca