Welcome to the weekend, friends! We've got another Albertan weekend on our hands, and – as usual – we've got a stacked roster of events and activities for you. There's a wide range of very Albertan things going down this weekend, and we think you should probably be in attendance. So, get out that calendar and get ready for a weekend of fun.
Harvest Moon Festival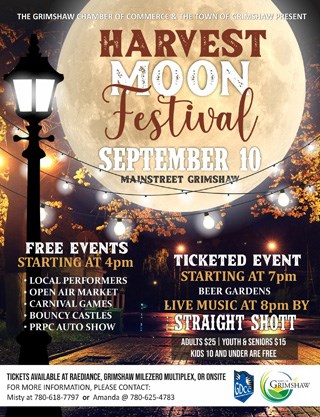 Harvest Moon Festival is returning to Grimshaw, Alberta; you simply can't miss it. This fun festival takes place on September 10th on Main Street. Kicking off at 4 pm, you can enjoy local performers, an open-air market, carnival games, bouncy castles, an auto show, and more. Naturally, there will be beer gardens and live music by Straight Shott. What a fun opportunity to gather and celebrate community spirit and the new season. Don't miss this!
Rotary Ribfest YYC
So, you like ribs? This big festival runs from September 9th to 11th at McMahon Stadium, and you better bring your elastic-waist pants. You'll find ribs, chicken, pulled pork, brisket, and more. A wide variety of vendors will serve up all of the saucy goodness, and you are about to eat your weight in BBQ. There will be live music, beer, entertainment, and food-based competitions. Beyond the BBQ, there will also be poutine, ice cream, deep-fried treats, tons of drinks, and the list goes on. Trust us. You might not be hungry again until 2023.
Roots, Blues, & BBQ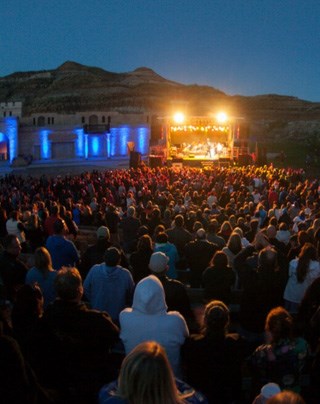 An incredible music festival is coming to the Badlands Amphitheatre in Drumheller, Alberta. You can enjoy hours of fantastic music and food surrounded by the jaw-dropping Canadian Badlands. Artists include Samantha Martin & Delta Sugar, Shakura S'Aida, Angelique Francis, Celeigh Cardinal, and Spencer MacKenzie. You can get excited to eat a variety of BBQ food, too! We can't think of a better combo than blues and BBQ. Get your tickets now!
Alberta Culture Days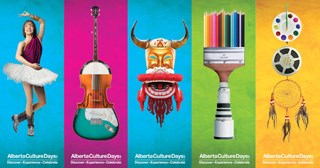 From September 1st to 30th, Alberta will explode with virtual and in-person events indoors and outdoors. These events allow folks to discover, experience and celebrate arts and culture through local events and activities, in person and online across the province. There are so many events, and they are all vastly different, so you'll be sure to find something near you and up your alley. There are markets, festivals, live performances, food-based events, art shows, and much more. This is an amazing opportunity to explore all of your province's culture. Check out the event calendar and enjoy!
Britanny Burr is a freelance writer and a contributor to Great West Media. This story was written for the 2022 Hot Summer Guide advertising feature. It is not written by and does not necessarily reflect the views of the editorial staff.