Are you lucky enough to be enjoying Thanksgiving in the great outdoors this year? If you're getting ready to give thanks while camping, you might be wondering how you will manage your big feast, specifically, the turkey. Luckily, you have options.
Depending on your setup, you might take several different approaches to cooking an unforgettable turkey while camping. If you have a big oven in your RV or trailer, this would be the obvious choice. Though, very few campers offer full-sized ovens. This would make it especially tough if you've got a big bird on your hands. So, let's assume you won't be taking the traditional oven approach.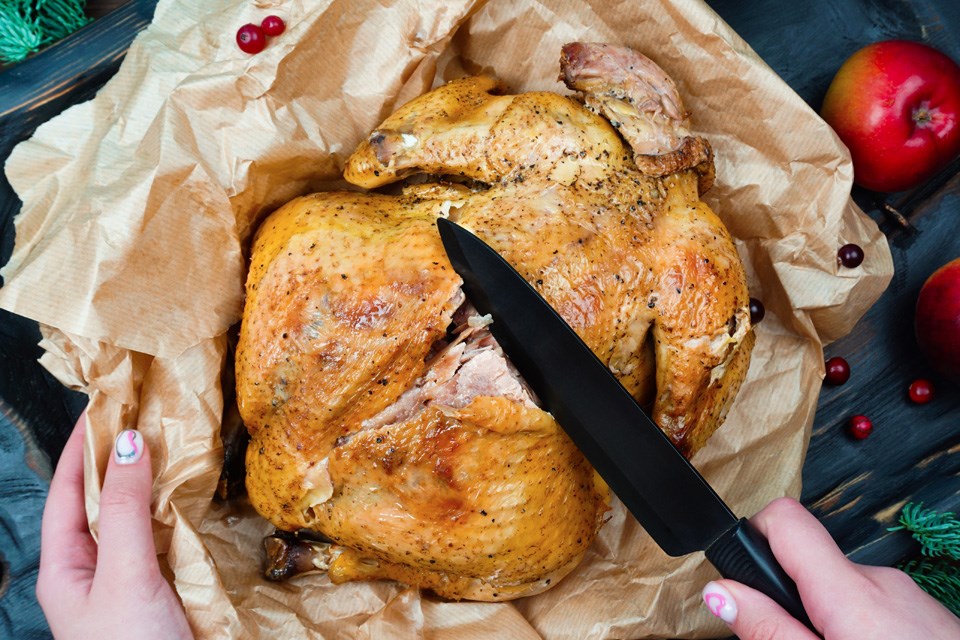 Your other options include pit-cooking turkey by digging a hole in the ground and slowly using hot coals for cooking it to perfection. This is a wilder approach that likely wouldn't be welcomed on a regular campsite. You could also go for a grilled approach, meaning you will need to cut your turkey up into smaller pieces or spatchcock it, which means butchering the bird, so it lays flat on the grill. This approach works well, but you'll want to be sure you brine it ahead of time, so it doesn't dry out. Or, you can take what we believe to be one of the more accessible and tasty routes and use a dutch oven.
You will need a huge dutch oven with a rack at the bottom, so the turkey is elevated. You don't want the bird to be touching the sides, bottom, or top. The trick is finding and lugging along your giant dutch oven. Once you've got that, the rest is simple.
You will place the rack, oil the dutch oven, and set the loosely-stuffed turkey inside. You'll want to place coals around and on top of the dutch oven and replenish them as you go. You'll want the bird to reach an internal temperature of 165 F before you remove it. Once it's hit the right temperature, you can let it rest for 20 minutes before you carve and serve.
Honestly, it's that simple! Though, you'll need to be pretty patient because this can take about three hours for a smaller bird. A bigger bird could take the better part of the day, which doesn't include prepping the stuffing and accompanying dishes.
There are tons of unique side dishes you can choose from when making your away-from-home-cooked meal. Some examples include loaded baked potatoes on the fire, campfire foil veggie packets, Mexican street corn, campfire spinach dip, and so much more.
This story is brought to you by Great West Media Content Studio. It is not written by and does not necessarily reflect the views of the editorial staff.