Are you a senior looking for social ways to engage with others to help keep your mind and body healthy? If so, have you heard of Alberta 55 Plus?
Alberta 55 Plus promotes a variety of activities for seniors. In addition to sports, activities include mental exercises such as art, creative writing, card games (like bridge, euchre, cribbage and military whist) and Scrabble. Members of the organization can partake in provincial summer and winter games (held on odd years), and then progress to Canada 55 Plus games (held on even numbered years). There is no set way to enjoy a membership with Alberta 55 Plus. Join to play games, join to learn a new sport, join to compete – or all three! It's up to you.
"It's fun, it's competitive, it's social," smiles Norma Dawson as she speaks on behalf of the organization. "It's not just about exercise and physical sports. It's a great way for seniors to get out and have fun.
What if you are wanting to compete but don't play sports? No problem. Alberta 55 Plus' competitions take place across a variety of activities, including darts, card games, Cornhole and shuffleboard. Visit the website to see the latest results of the many competitions.
Memberships empower seniors to get the most out of their Alberta 55 Plus experience. The cost is $40/year (as of January 1, 2023) and memberships expire on December 31st. Initial sign up or renewal can be taken care of conveniently online. Benefits of membership include qualification for winter and summer tournaments, sports and liability insurance when participating in events, volunteer opportunities, bi-annual newsletters and more.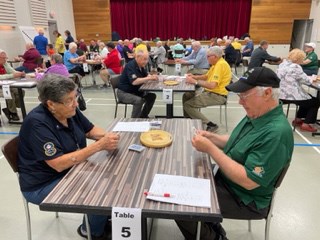 Joining Alberta 55 Plus is a wonderful way to enhance wellbeing and help prevent the dangers of isolation. According to The Government of Canada, about 30% of Canadian seniors are at risk of social isolation and around 24% (aged 65 and over) feel isolated and wish they could participate in more social activities. Feeling isolation is more than being lonely. Isolation leads to poorer health outcomes across the board and has a hand in depression, substance abuse, cognitive decline and atrophied social skills.
When it comes to cognitive ability, experts agree that staying socially engaged, getting into mentally stimulating hobbies and exercising often can help stave off or improve decline. All those attributes are equally good for the body, as mental and physical exercise improves the ability to fight colds and flus, strengthens muscle, slows down bone loss and improve balance.
There is simply no reason not to join Alberta 55 Plus! For a low annual fee the benefits are immeasurable. New friends, competitions, card games, travel and outings await. Anyone over the age of 55 can join; this club is affordable, accessible and a safe space for all members. Alberta 55 Plus may be the province's best kept secret, but it's a secret worth sharing. Help raise awareness of this social/physical activity solution for seniors by checking out the organization and spreading the world to your friends. Click here to learn more.