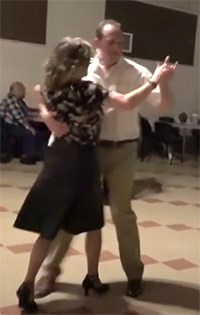 As an adult, and especially as a senior, it can be hard to find new friends or activities. If retired, there are no co-workers to get to know, and as the years go by, the social circle gets smaller. But you still want to go out, have fun, be active and meet people! The answer is Minus One, Edmonton's no-partner-needed dance club, which is celebrating 58 years in 2022.
Originally aimed at single seniors (which still make up the largest attendees, even though it is now open to all), Minus One is where you can join a dance community – no partner needed. Old-time music played on violins, accordions and guitars accompany dancers through the polka, two-step and waltz. A mixer dance is included where men line up on one side and women on the other. Dancers meet in the middle and dance with whomever their partner turns out to be. Great fun!
Louise Clarke, the former President who held an executive position for over 35 years decided to retire one year, whether someone stepped forward to take her place or not. Irene Sather offered to step forward to be the Interim President, and was then elected to be the President the next year along with a great executive team. That was seven years ago. She admits with a wry grin, "It's kind of hard to find volunteers to fill the board positions. But I do enjoy it. It keeps me active, connected to people, talking to bands and doing office work."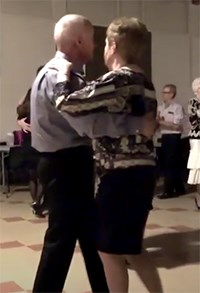 Sather's journey started as a participant on the dance floor 15 years ago like many other singles. "Once you are separated, divorced or widowed you don't fit in the couples world anymore," she explains of why she, and other dancers started going to Minus One. "There are a lot of people looking to reconnect. Some are looking to make new friends and dance the night away. Some are looking for a romantic relationship. Some come as married couples. After a while you get to know the regulars and you feel safe and comfortable, even on your own.
COVID was particularly hard on the senior population and forced a lot of them into early retirement. Sather feels that Minus One is also a great option for new retirees to discover a community outside of co-worker relationships.
At each event there is a 50/50 draw. Alcohol is not permitted but a light lunch is included in the fee, along with coffee, tea and water. The first dance event of the season is June 11. Following will be one in July then one in August. After that, pending the COVID numbers, the regular two events per month are scheduled to return.
Minus One is actively seeking volunteers for all positions on the board. However, volunteering can also be helping out during the dances. The club is run by volunteers, so the more that step forward the less work it is for any one person.
Sather concludes, "When you join Minus One, as a dancer or as a volunteer, you become an important part of our community. If you are looking for somewhere to fit in, you belong here."
Minus One is a wonderful community for dancers, especially seniors. The club is open to all, and no experience or partner is required. Learn more by visiting the Minus One of Edmonton website at https://minusonedanceedmonton.com, where you will find the current event schedule, fees, band information (upcoming bands are The Diamonds, The Chwill Brothers, and The Sparkling Tones), a photo gallery and more.