Karl Hager Limb & Brace provides a very large variety of products to help support knees, legs, feet and the upper extremities. Specialty pediatric bracing is also available. Full assessments determine if Karl Hager is the best fit, or if the patient is better served by physiotherapy, chiropractic care or massage therapy. The only goal of Karl Hager is the best possible outcome for each patient. On-site manufacturing with high levels of technology and quality control means Karl Hager can always provide the best products and services while maintaining patient focus.
Steve Stredulinsky joined Karl Hager in 2017.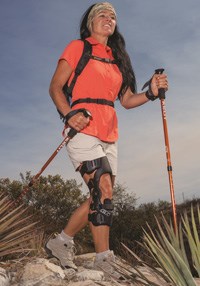 "I am a Certified Canadian Pedorthist – which means I am a lower body foot mechanic specialist," smiles Stredulinsky. "I do a thorough assessment and if necessary, I cast, scan, and take measurements for custom foot orthotics, custom footwear, custom knee bracing, shoe modifications, and ankle bracing."
Stredulinsky notes, "Currently, we live in a time with a significantly aging population. With that comes issues that people don't have to typically deal with when they are younger – mainly arthritis and osteoporosis. As well, we deal with muscle loss and fatigue.
"One thing that people shouldn't become accustomed to is living with pain. The body is designed to move and by moving we get blood flowing and tendons, ligaments, and muscles moving like they should be. That promotes health and healing. Orthotics can play a vital role in both pain prevention and pain reduction. When we are pain free, we are happier and more active overall."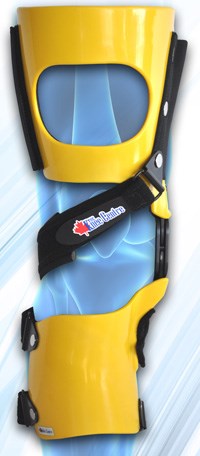 He continues, "We know that women have a higher incident rate of ACL injuries, especially during their teen years and active years. Because of this, it can also result in a cumulative effect of degeneration in the knee compartments, which leads to the development of osteoarthritis. Ensuring the body is moving in a functional and appropriate way can help reduce pain, as well as prevent the development of degeneration or even recurrence of pain."
Alongside the team, Stredulinsky is happy to help patients with customized solutions. He also points out that not a lot of people think of bracing support while waiting for surgery, but bracing can provide a world of difference and really improve pain management. Contact Karl Hager to discuss knee bracing, their new dynamic hip brace and more if you are a patient waiting on surgery or facing a surgery delay.
The team is also happy to discuss the Alberta Aids to Daily Living (AADL) program. AADL helps Albertans with long-term disabilities or illnesses afford the medical equipment that helps them maintain independent living. Karl Hager helps patients understand if they qualify for AADL assistance.

Karl Hager is very invested in the community and gives back to Edmonton's Food Bank, Santa's Anonymous and Kaleo Collective (which supports single mothers).
Looking forward, Karl Hager is excited to expand its team and embracing technology, like 3D printing and scanning, that improves patients' lives.