This adorable bakery and coffee shop in Okotoks is known for many things. To its loyal patrons who travel from as far as High River, Turner Valley, Black Diamond, and even further, it's known for its delicious coffee and unbeatable baked goods. But, to social media, 94 Take the Cake is known for its wonderfully whimsical interior.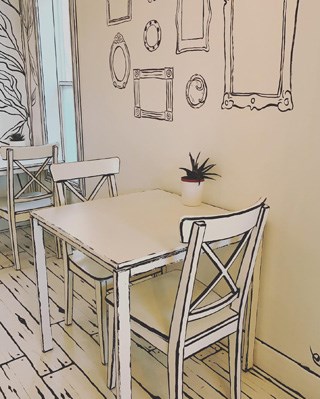 When you step into this place, you'll feel like you've stepped into an unmarked colouring book. The walls, furniture, and floors are painted with white and black sketches to make you feel like you've stepped into a two-dimensional masterpiece. It might just remind you of "Blue's Clues" or other creative TV shows from your childhood, but with a more sophisticated, minimalist spin.
From the outside, the place looks like a cozy little home with an enchanting outdoor patio. Truly, you'd never expect what you're about to encounter inside those doors.
If you're looking for some next-level custom baking, you won't believe the artistry of their custom cakes for weddings, birthdays, and basically any event you could think of (even no event at all!). On top of the cakes, they serve up cake pops, cookies, pies, and squares that are all made from scratch by Sherry, whose artistic background in design and passion for cooking come together to bring you the best baking imaginable.
The selection of baked goods changes daily, and you get to enjoy them in one of the coolest, coziest, classiest locations you can find. They also offer baking classes if you'd like to try your hand in the kitchen.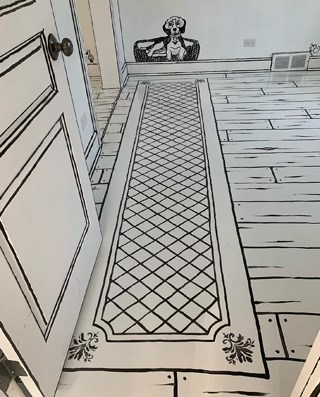 Now, let's talk about coffee. At 94 Take the Cake, you'll find Chronicle Coffee, roasted in small batches and bringing you rich, flavourful brews that are always fresh and incredibly community-minded. Imagine sipping a nice cup of coffee and eating a baked good (or three) in the two-dimensional world of 94 Take the Cake. Pretty cool, right?
There's no question why images of this quirky spot flooded the internet, but we still consider it a bit of a hidden gem thanks to its unassuming exterior.
Whether you're popping in for a coffee, ordering a custom cake, taking a baking class, hosting a party, or looking for an amazing caterer, 94 Take the Cake has got you covered. Oh, and don't forget to snap a photo of your outing to join in on the fun online.
Britanny Burr is a freelance writer and a contributor to Great West Media. This story was written for the 2023 Hot Summer Guide advertising feature. It is not written by and does not necessarily reflect the views of the editorial staff.