There's nothing quite like exploring an eerily quiet ghost town. Walking through abandoned streets, peering into empty shop windows and imagining a time past makes for an interesting adventure.
Alberta is home to a number of deserted towns and hamlets that offer visitors a glimpse of the province's rich history. Here are three great campgrounds that are close to historic ghost towns in southern Alberta.
A Town Underwater
Lake Minnewanka, located in Banff National Park, was once a very popular summer village until it was flooded by the construction of a local dam. Scuba divers from around the world explore the well-preserved structures that exist in this glacial lake.
Visitors can camp close to Lake Minnewanka at either Two Jack Main Campground ($23 per night) or Two Jack Lakeside ($29.25 per night).
Two Jack Main has 380 sites that can accommodate RVs up to 21'. It has a sani-dump and toilets, but the sites are unserviced and there are no showers available.
The 74 campsites at Two Jack Lakeside campground are best for RVs up to 27'. This campground does have showers. Both campgrounds are stops on the local public transit that can take visitors down the road to Lake Minnewanka or into the Town of Banff.
Historic Frank Slide
In 1903, an avalanche at Turtle Mountain crashed down on a large portion of the town of Frank. The rockslide killed 90 people and devastated the town. Now it is the site of the Frank Slide Interpretive Centre where visitors learn about the history of the area and geological information about the slide itself.
Crowsnest Pass Campground is a great place to set up camp when exploring the remains of Frank. The year-round campground offers indoor washrooms, showers, laundry, WiFi, picnic tables, and firepits. It has 21 serviced sites that include water and 30-amp power as well as 10 sites that also have sewer hookups. It is walking distance to Crowsnest River and about a 10 minute drive to the Frank Slide Interpretive Centre. Sites range from $25 to $40 per night depending on the services needed.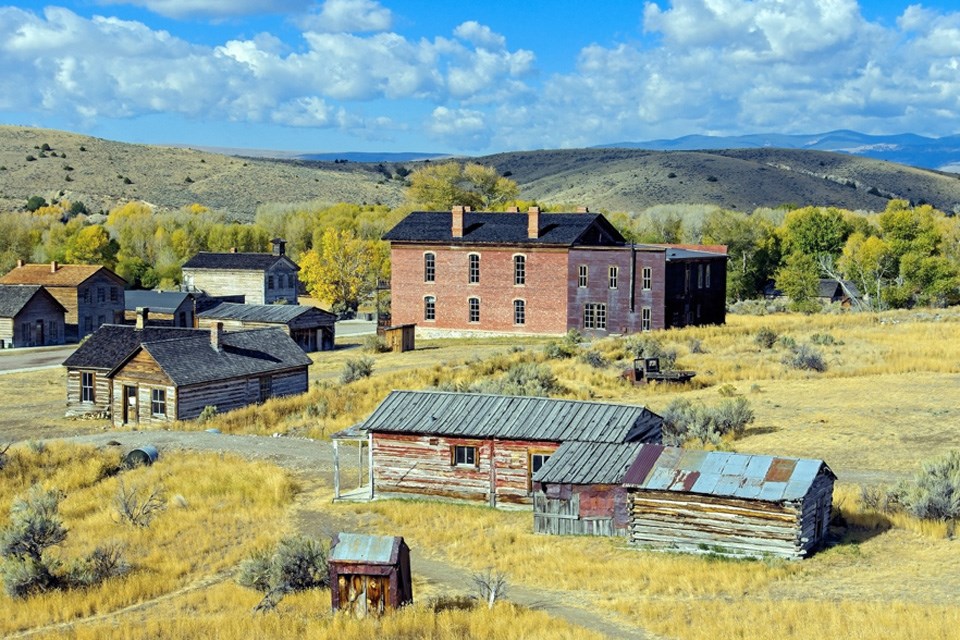 Disappearing Population
Etzikom, a hamlet in southern Alberta, was once a bustling small town. A number of devastating disasters caused the population to dwindle over time, including the 1918 flu epidemic that killed many of the residents. Today, it is home to the Canadian National Historic Windmill Centre that highlights 200 years of Canadian wind power.
Camp nearby at beautiful 40 Mile Park campground to enjoy fishing, boating and swimming in the 11 kilometer reservoir. Amenities include two laundry facilities, an indoor bathroom and coin-op showers as well as potable water and a sani-dump station. The campground has 90 seasonal sites as well as 90 overnight sites with optional power and sewer that cost between $25 and $40 per night. They also offer monthly and seasonal leases.
Adding a few ghost towns to your next RV camping adventure is a great way to learn more about the history of our province. It can also spark your imagination and give you some great material for thrilling ghost stories around the campfire at the end of the day.
This story is brought to you by Great West Media Content Studio. It is not written by and does not necessarily reflect the views of the editorial staff.