Whether you're going to tackle a bathroom renovation or simply want to kick up the wow factor, matte black faucets and accessories go a long way in making a stylish statement, especially if you want to infuse some depth and drama to your focal points or accents.
The mass appeal of matte black cannot be understated, as it continues to filter into the mainstream and be incorporated throughout home designs. It's showing up everywhere, but predominantly kitchen and bath spaces.
"We've seen matte black grow in popularity over the past few years, and a lot of our customers are asking for it more often," says Adam Young, marketing coordinator, with Splashes Bath & Kitchen, Victoria, B.C.
"Customers can expect a wider range of options than years ago. We stock a variety of brands that offer matte black in their collections, like Riobel, with their faucets and shower kits, or Kartners' line of accessories."
Biggest advantages of matte black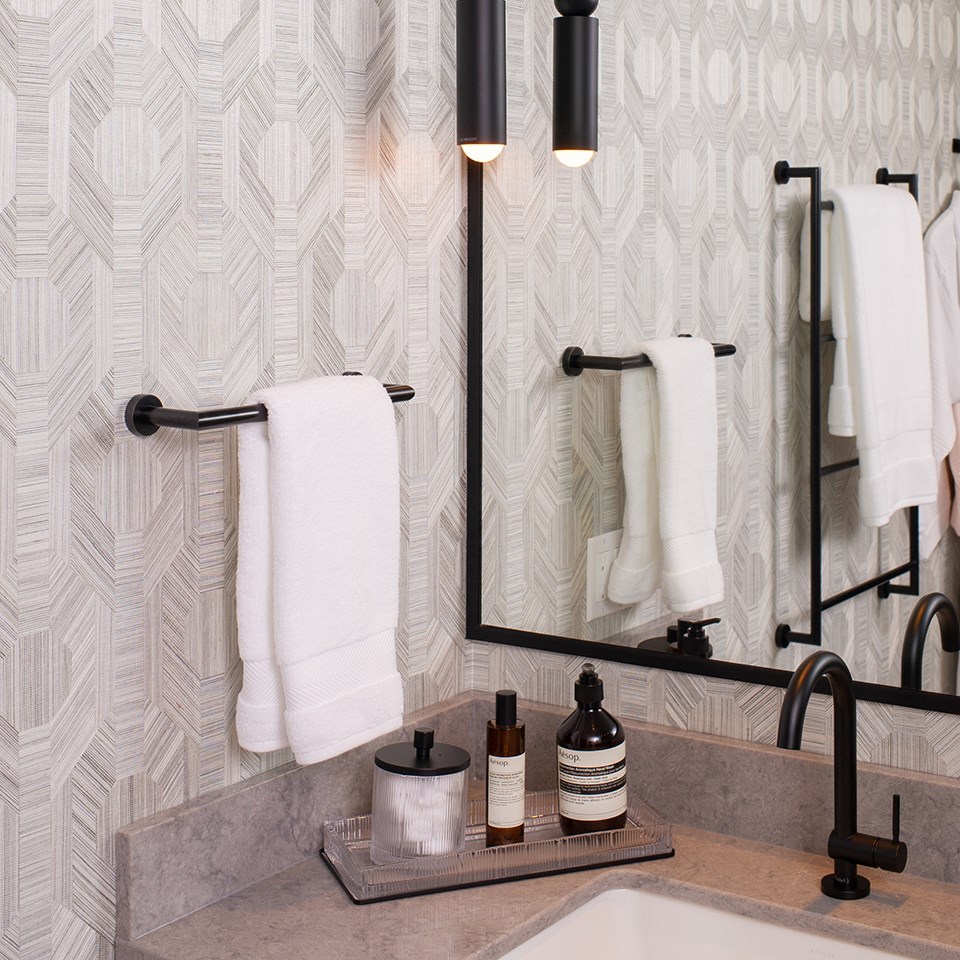 Matte black offers a more distinct and sleek profile than conventional fixture designs and finishes, so it's easy to modernize your bathroom. Its timeless quality means it's unlikely to go out of style.
Known for its versatility, it's exciting to integrate with other metals for contrast, like satin brass and golds, for instance, even stainless. Plus, it pairs seamlessly with any design styles you want to achieve, like modern, traditional, or transitional.
Additionally, most people gravitate towards a neutral colour palette in their bathrooms, which makes it a great finish option that pops and complements fluently.
If your bathroom is well-lit or sunshine streams in, with an unpolished finish like matte black, you'll find less glare, without light bouncing off your fixtures.
"It's softer, more subdued, too," adds Young, "while maintaining an air of sophistication and elegance."
The big bonus? Maintenance is virtually effortless, as this black beauty is more impervious to water marks, fingerprints and scratches, compared to chrome or other metallic surfaces.
Product collections, inspiration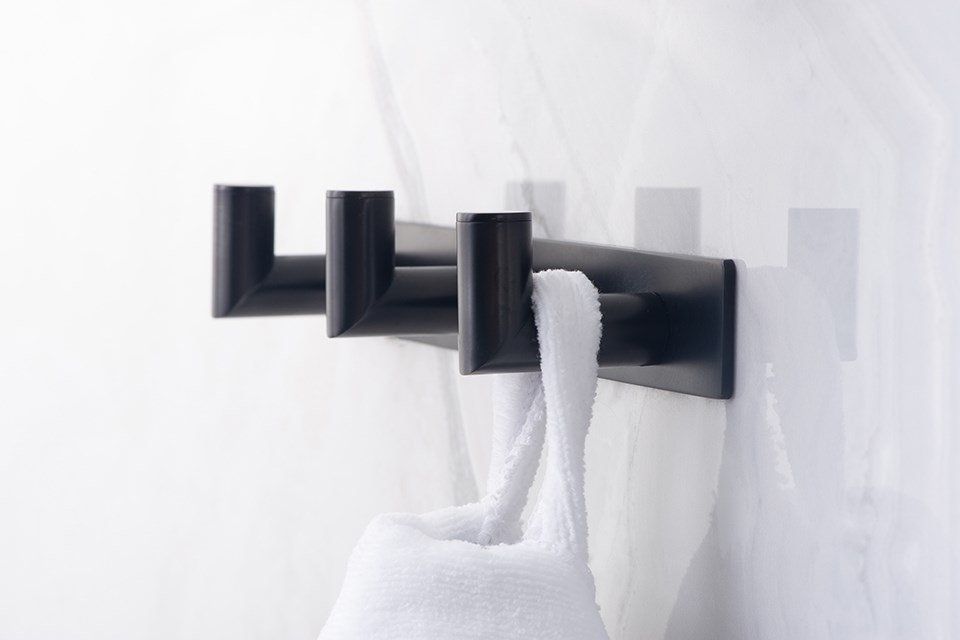 The experts at Splashes Bath & Kitchen share some options to incorporate matte black products into your bathroom.
"The faucets in the Nibi Collection by Riobel have a minimal aesthetic that would complement any bathroom," explains Young. "They've taken inspiration from the cone-shaped tapering of a lighthouse, with straight, steady lines, and a rounded base. We carry both the Single, Top Handle Faucet, and the Widespread Faucet models."
For all you bathers who love a good soak, you can elevate your Zen time. If your go-to relaxation is a book and glass of wine, look to Kartners' Free Standing Bath Wine Stand to keep everything within reach. Its modern styling is the perfect accent piece, and accommodates your book or laptop, stemmed wine glass, and towel.
For wall-mounting towel hardware, consider Kartners' Oslo Collection Towel Bar 12", with its round minimalist look, softened by round forms, it delivers a strong contemporary style.
Your fluffy robes can have their own home, too, on the Oslo Triple Robe Hook, with three fixed horizontal hooks, and concealed mounting for a seamless look.
"If you're considering matte black for your bathroom fixtures and accessories, our consultants will help you with your questions and provide you with design advice," reveals Young. "Our experts are here to help make your dream bathroom a reality."
For more information on the products and to find a location near you, visit splashesonline.com
Consult a Splashes Bath & Kitchen expert to learn more about the best matte black fixtures and accessories for your needs, and view their exceptional selection of reputable brands and quality products at one of their showrooms.